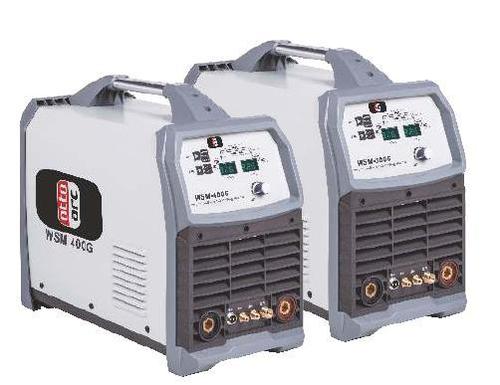 TIG welding machine -WSM-400D/400G/500G
Product Description
TECHNICAL CHARACTERISTICS:
Used powerful IGST and advanced inverter control technology.
With PW control technology and Constant Current (CC) output control, Welding current can be exactly controlled.
Specially designed for DC TKs/ DC PULSE TIG/ MMA Welding process.
With inbuilt HF (High Frequency) unit helps to start arc easily for DC TIG & Pulse TIG Welding Process.
Key features :

With 2T & 4T functions
Adjustment of pulse current, base current.
Adjustment of flow of Gases during welding.

Initial current control & crater current control improves bead quality during arc start and crater stages.
Excellent arc characteristics and good welding performance.
With auto protection functions of over-current and over-heat.
Energy savings up-to 30%
Machine can weld all kinds of Metal e.g. Stainless Steel, Carbon Steel, Cast iron etc.
Technical Details



Rated supply voltage

Supply frequency

Rated input capacity

Rated supply current

No-load voltage

Welding current range

Welding current max

Rated welding voltage

Rate duty cycle

Efficiency

Power factor

Degrees of proctection

Class of insulation

Net weigth

Matchine size

TECHNICAL CHARACTERISTICS:

V

Hz

KVA

A

V

A

A

V

%

%

Close

IP

H

Kg

mm

WSM- 400G

3 Phase /415 + 15%

50/60

13.2

18.3

74

10-400

450

26/36

60

85

0.9

Ip21s

H

37

620L

310W

570H

WSM- 500G

3 Phase /415 + 15%

50/60

8.8

25

68

10-500

550

30/40

60

85

0.9

Ip21s

H

7.1

620L

310W

570H
Trade Information
With machine the standard accessories are provided.

All India