TIG Track Pipe Heads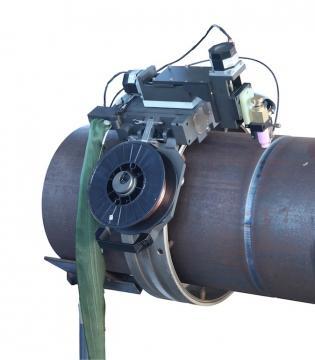 TIG Track Pipe Heads
Product Description
TIG track pipe heads is functional in energy sector-soldering Head is ideal for deep wall constrictive channel welding, with 5-grooves water chilling and tungsten swaying. This system is created from torch angle swaying section, torch mending part, back safety air hood, gas hood elevating component, cable feeding mount, camera observation system and electric flowing component. The torch mending section is made by elevated temperature tolerant shield material, making sure long-term working, and incorporated electrical circuit water and cautionary gas channels. Inner protective gas hood of our TIG track pipe heads is formed from untainted steel, with water chilling utility. Further, connection component with torch is separated by wrapping material, which can efficaciously defend the root of external surface and pass while executing channel welding.

Boiler, power plant, Thick work-sample in nuclear facility, valve, chemical and shipbuilding are some of the areas, where our range is extensively used. Apart from these, our range is adept for large pipe to pipe link Hot wire /Cold wire AVC tracing & OSC shielding, which is appropriate for marine, military, oil pipe, nuclear plant and ship applications.


Features of TIG Track Pipe Heads :

Appropriate for chamfer breadth less than 9mm constrictive bevel soldering.
Make both sides entirely soldering by operations of tungsten
Optimum removal efficiency, less heat input
Welding know-how: orbital, horizontal and vertical welding
Specific 5-groove water chilling, high work cycle
Dual gas security, guarantee weld quality
Favorable to alter and keep consumable components, less disposable and minimal cost
Suited for stainless steel, titanium alloy, carbon steel and nickel base alloy.
Technical Details:
<!-- BODY,DIV,TABLE,THEAD,TBODY,TFOOT,TR,TH,TD,P { font-family:"Arial"; font-size:x-small } -->
| | |
| --- | --- |
| Bevel type | U, J type |
| Tube Thickness (mm) | 30-200 |
| Bevel Width (mm) | 9-20 |
| Max Current (A) | 350 |
| Max Wire Feeding Speed(mm/min) | 5500 |
| Wire Diameter (mm) | 1.0-1.2 |
| Protective Gas | Ar 99.99% |
| Cooling | Water |
| Weight (kg) | 7 |
| Dimension(mm) | 175*160*445 |