Pipe Prefabrication Line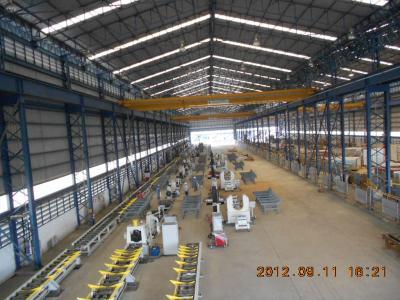 Pipe Prefabrication Line
Price And Quantity
Piece/Pieces

45000000.00 INR
Product Description
Our welding fabrication line is particularly developed for pipe fabrication sectors, it can select different design and unit to meet various requirements. Each unit is linked by logistics system that achieve a line operation activity as beveling, root welding, cap welding, upload, fit-up, filling welding, spot welding and many others with an optimum efficiency.
The set-up is distinctive production line to resolve MAG/TAG root welding, which can be used to weld with 0-5mm opening in root pass, which can regulate quality in a simple manner. Further, the entire production can find solution of mechanical length control, fit-up, uploading, transport, welding and other activities.
Some of the salient features of Pipe Prefabrication Line :
Our range is designed for pipe pre-production in accordance to the output need to select the welding designing and station.
Every welding stations are linked by effectual logistics system that realize the entire work process as load, spot welding, fixed length, etc. enhances the efficiency of prefabrication line.
Affixed length resolves mechanical root pass issues.
Utilizing balance PLC regulator to make sure the welding system operate stable while reducing the error rate.
The welding station can be transited by container to help field relocation and operation.
Standard design for minimizing time for producing and designing that is advantageous to maintenance and production.
Our Pipe prefabrication line is widely utilized in construction machinery and shipping industry.