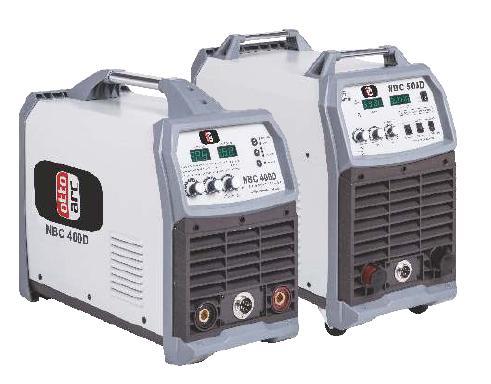 MMA Welding Machine
Product Description
TECHNICAL CHARACTERISTICS (NBC-270/400D/500D-MIG/Mag+MMA Welding Machine):
Powerful IGBT's are used, with powerful inverter & PWM technology.
Microprocessor or MPU control technology. Constant voltage (CV) and current (CC) output control.
Machine contains 4 IGBTs.
MIG/MAG (GMAW), Flux cored (FCAW) and MMA or Stick (SMAW) welding process.
Can weld all kinds of metal, e.g. stainless steel, carbon steel, atc.
Excellent arc characteristics. Good welding performance and little spatter.
With two gun switch optional models of 2T and 4T.
Auto protection functions of over-current and over-heat.
High welding speed and duty cycle.
High quality and energy savings up to 30%.
Technical Details



Rated supply voltage

Supply frequency

Rated input capacity

Rated supply current

No-load voltage

Welding current range

Welding current max

Rated welding voltage

Rate duty cycle

Usable electrode

Efficiency

Power factor

Degrees of proctection

Class of insulation

Net weigth

Matchine size

TECHNICAL CHARACTERISTICS:

V

Hz

KVA

A

V

A

A

V

%

Mm

%

Close

IP

H

Kg

mm

NBC -400D

3 phase /415 + 15%

50/60

19.5

29.5

58

40-350

350

31.5

60

0.8-1.6

85

0.9

Ip21s

H

35

600L

310W

540H

NBC -500D

3 phase /415 + 15%

50/60

23.5

35.5

67

40-500

500

39

60

0.8-1.5

85

0.9

Ip21s

H

39

620L

310W

570H
Trade Information
As it is MIG welding machines it's accessories like wire feeder, torch,earthing cable, regulator etc. are provided with the machine.

All India