Hydraulic Hose Welding Machine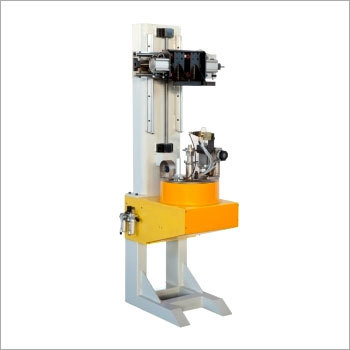 Hydraulic Hose Welding Machine
Price And Quantity
Piece/Pieces

2450000.00 INR
Product Description
The range of Hydraulic Hose Welding is manufactured on our premises, under the guidance of our well-experienced professionals. Our products are manufactured under the instructions of our team of experienced professionals, by using the premium quality raw material and latest techniques, as per the industry norms. Furthermore, the range of Hydraulic Hose Welding offered by us at a competitive price.
Application of Hydraulic Hose Welding Machine :
I-ARC400 Power Source :

All-around orbital welding power source Specially designed for Huaheng hydraulic hose welding heads, with all power source functions in the market.
The iArc400 digital welding power source is designed and manufactured according to advanced technology by Huaheng Welding Co., Ltd.
iArc400 is designed for hydraulic hose pipe welding applications. It is commonly used for chemical, boiler, shipyard, nuclear plant, marine & offshore, and aerospace industries, etc.
Support equipment: Huaheng TC series, TOK series, TOA series, TP060 and TP040 welding head, external wire feeder, GTX series with system updating.
Features :
Windows CE embedded version operating system with updatable, simple interface for easy operation;
100 program internal memory storage with external USB support for importing and exporting data
Adjustable parameter during welding process for some special welding requirements
Built-in various welding head parameters for accurate motion control
Control pendant display for real-time data monitoring
Option to choose offline programming or offline printing
Perfect fault detection solution, error display, modular design for easy maintenance
Real-time welding parameter record during welding process
Solid metal case, optional to use movable trolley for convenient transport
Up to 20 levels for each program for accurate control according welding requirement
Water cooling system to ensure long time working
GTX53 Hydraulic Hose Weld Station :

Tube to Flange, tube to tube welding expert-welding head Suitable for locomotive, engineering machinery welding.
This system is specially designed for tube to flange TIG welding. It can do single position welding or orbital welding, joint or angle welding, with fusion, wire feeding or wire feeding after self-fusion. It can be placed vertical or horizontal. Support equipment: i-Arc400 Programmable Orbital Welding Power Source. Application: Special tube to tube and tube to flange in locomotive, engineering machinery.

Features :
Optional to choose with/without wire feeding
Pneumatic clamping design, convenient and efficient, precisely positioning to ensure the work-piece stable fixed on the platform
Quick and convenient positioning, no wire wrapping required before welding, reduce preparation time
Water circuit cooling torch for long time working.
i-ARC400 Power Source
Specification :


<!-- BODY,DIV,TABLE,THEAD,TBODY,TFOOT,TR,TH,TD,P { font-family:"Arial"; font-size:x-small } -->
| | |
| --- | --- |
| Type | Inverter |
| Current | 5 - 400A |
| Duty Cycle | 400A at 60% / 310A at 100% |
| Open Circuit Voltage | 72V |
| Input Voltage | 380V+10% 50/60HZ |
| Power | 13.5KVA |
| Display | Industrial PC |
| Control Function | Gas control, Current control, Rotation control, Wire feeding control, AVC control, OSC control, Circuit water control, Fault detection control |
| Program Storage | 100 |
| Numbers of Level | 20 |
| Screen | 6.5" |
| CPU | 1.1G |
| Memory | 1G |
| Hard disk | 2G |
| Print | Option: printer |
| Insulation/Protection Class | F / IP21 |
| Cooling Power | 800W |
| Pump Head | 40m |
| Cooling Tank Capacity | 15L |
| Weight | 135kg |
| Dimension (mm) | 1110mm x 520mm x 1024mm |
| Manufacture Standard | GB15579-2004 IEC60974 |
Hydraulic Hose Welding
Specification :

<!-- BODY,DIV,TABLE,THEAD,TBODY,TFOOT,TR,TH,TD,P { font-family:"Arial"; font-size:x-small } -->
| | |
| --- | --- |
| Material | Carbon steel, stainless steel |
| Tube OD(mm) | 17~76 |
| Tungsten Diameter(mm) | 2.4 ' 3.2 |
| Rotation Speed(rpm) | 0.1~3.29 |
| Torch Angle | 0o~45o |
| Protective Gas | Ar |
| Cooling | Water |
| Cooling Flow(ml/min) | >600 |
| OSC Width(mm) | 40 |
| AVC Height(mm) | 40 |
| Wire Diameter(mm) | 1.0(standard) |
| Max Wire Feeding Speed (mm/min) | 1800 |
| Weight(kg) | 290 |
| Dimension(mm) | 700x640x1760 |