HGJ Welding Rotators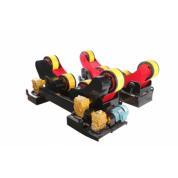 HGJ Welding Rotators
Price And Quantity
Piece/Pieces

500000.00 INR
Product Specifications
Product Description
We are offering HGJ welding rotators that are impeccable welding additional tool- Roller select ideal rollers to satisfy various types of welding needs.
The rollers are mainly utilized for automotive enclosing join welding usages. They are essential tools for mechanical welding of load vessels and are beneficial in their dependable advanced performance, ease in operation and premium quality.


Some of the striking features of our range:
Rollers are segmented into alterable ans self-aligning rollers.
The prolonged thickness of wheels minimizes the feasibility of plastic distortion on work-piece. surface particularly for flat-walled barrel.
The motor of drive can make sure the set-up's hassle free functioning at low speed.
The multi-stage gear decreaser features a large torque productivity.
The circumferential pace of the wheels is balanced and even.
Technical Details:
HGJ-C Adjustable Roller
Maximum Load (kg)
Structure Type
Work piece Diameter (mm)
Roller Speed (mm/min)
Speed Adjustment Type
HGJ-2C
Radial adjusting
2000
Master and slavery rollers
300-2500
100-1000
Variable frequency
Bolt adjusting
200-2500
HGJ-5C
Screw mandrel adjusting
5000
Master and slavery rollers
250-2300
100-1000
Frequency control
HGJ-10C
Screw mandrel adjusting
10000
Master and slavery rollers
300-2800
100-1000
Frequency control
HGJ-20C
Screw mandrel adjusting
20000
Master and slavery rollers
500-3500
100-1000
Frequency control
HGJ-40C
Screw mandrel adjusting
40000
Master and slavery rollers
600-4200
100-1000
Frequency control
HGJ-S Self-aligning Rollers
Maximum Load (kg)
Structure Type
Work Piece Diameter (mm)
Roller Speed (mm/min)
Speed Adjustment Type
HGJ-10S
Wheel dip angle 90
10000
Master and slavery rollers
320-2800
100-1000
Frequency control
Wheel dip angle 120
320-3600
HGJ-20S
90Wheel dip angle 90
20000
Master and slavery rollers
500-3500
100-1000
Frequency control
120Wheel dip angle 120
500-4300
HGJ-40S
90Wheel dip angle 90
40000
Master and slavery rollers
600-4200
100-1000
Frequency control
120Wheel dip angle 120
600-5000
HGJ-60S
Wheel dip angle 90
60000
Master and slavery rollers
750-4800
100-1000
Frequency control