Fusion Welding Machine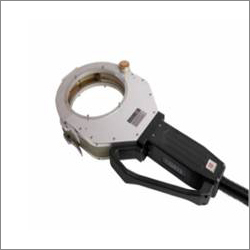 Fusion Welding Machine
Price And Quantity
Piece/Pieces

1450000.00 INR
Product Description
The Huaheng Automation Pvt. Ltd. Company is a well-known Manufacturer and Supplier of Fusion Welding Machine. Our products are highly admired due to its superior finish, excellent quality and longer life. All the products are manufactured by using the top grade quality components and innovative techniques, under the guidance of our expert professionals. Furthermore, the range of Fusion Welding Machine ( Closed Weld Heads ) offered by our company at market leading prices.


Application of Fusion Welding Machine :
i-Arc200 Power Source
Other Details :

Easy to use orbital power source
Suitable for all HUAHENG fusion heads, thin tube and fittings
Widely used in semiconductor, pharmacy, food and other industries
Features :
100 programs internal memory storage with external USB support for importing and exporting data
Adjustable parameter during welding process for some special welding requirements
Built-in various welding head parameters for accurate motion control
Control pendant display for real-time data monitoring
Option to choose offline programming or offline printing
Perfect fault detection solution, error display, modular design for easy maintenance
Real-time welding parameter record during welding process
Solid metal case and optional movable trolley for convenient transport.
Up to 20 levels for each program for accurate control according to welding requirement
Water cooling system to ensure long time working
Closed Weld Heads
Features :
Closed welding, better protection
Open window for checking alignment after assembly
Remote pendent for long distance control
Suitable for stainless steel, titanium alloy small diameter with thin wall thickness
TIG welding without wire feeding
Water circuit cooling design for long time working
Widely applied in medical, food, biology, electrics, instrument and pipe installation industries.
Application :

The Fusion Welding Machines are planned to work at pipe trenches, structure building sites, or workshops.

Advance Features :

The Fusion Welding Machines have stiff elementary frames to assist two advanced grade aluminum casted important clamps, which are functioned by hose pipe and single hydraulic cylinders.
The Fusion Welder heating plates come with microprocessor supported PID digital temperature controllers for butt merger welding of PP, PPH, PE & PVDF fittings and pipes.
These have 4 clear liquid fill analog pressure gauges, which can be easily operated.
The Hand Fusion Welder heating plates are enclosed with built-in digital timers with sonic signal.
The Fusion Welding Machine hydraulic cylinders are integrated with optimal quality PU seals.

Application : Electric, instrument, pharmaceutical, engineering installation, military, nuclear facility and so on.
I-Arc200 Power Source
Specification :
<!-- BODY,DIV,TABLE,THEAD,TBODY,TFOOT,TR,TH,TD,P { font-family:"Arial"; font-size:x-small } -->
Type
Inverter
Current
5-200A
Duty Cycle
200A 60%/155A 100%
Open Circuit Voltage
55V
Input Voltage
380V+ 10% 50/60HZ
Power
5KVA
Cooling
External Water Cooler
Display
Industrial PC
Control Function
Gas Control/Current Control
Rotation Control/Wire Feeding Control
Program Storage
100
Numbers of Level
20
Screen
6.5"
CPU
1.1G
Memory
1G
Hard disk
2G
Print
Build In Printer
Insulation/Protection Class
F / IP21
Weight
36KG
Dimension
586mmx312mmx370mm
Manufacture Standard
GB15579.1 2004
Closed Weld Heads
Specification :
<!-- BODY,DIV,TABLE,THEAD,TBODY,TFOOT,TR,TH,TD,P { font-family:"Arial"; font-size:x-small } -->


TC12
TC26
TC36
TC76
TC116
TC156
Material
Carbon steel, Stainless steel, Titanium alloy
Tube OD(mm)
3~12.7 (1/8"~1/2")
6~25.4 (1/4"~1")
6~38.1
(1/4"~1 1/2")
19.05~76.2
(3/4"~3")
38.1~114.3
(1 1/2"~4 1/2")
50.8~168.3
(2"~6 5/8")
Tungsten OD(mm)
1
1.01.6
1.62.4
1.62.4
2.43.2
2.43.2
Rotation speed(rpm)
2.3~46.1
0.6~12
0.3~6
0.2~4
0.095~1.9
0.06~1.2
Protective Gas
Ar
Ar
Ar
Ar
Ar
Ar
Cooling
Water
Water
Water
Water
Water
Water
Cooling Flow(ml/min)


>600
>600
>600
>600
>600
Rated Current
45A 60%
60A 60%
65A 60%
75A 60%
100A 60%
100A 60%
Main Dimension(mm)












A
65
80
98
145
195
295
B
35
40
47
72
97
150
C
12.5
40
41
43
57
61
D
280
340
360
412
497
630
Weight(kg)
0.85 (no cable)
2.0 (no cable)
2.0 (no cable)
3 (no cable)
6 (no cable)
10.5 (no cable)
Dimension(mm)
2808545
34080100
360x120x41
412x165x43
497x230x57
630x330x61